Fed up of your 9-5 hour job, or want to be self employed or just finished B.Arch and looking for jobs? If you're here then you are well aware of the countless benefits as a freelancer. Working from home is now common than ever. With all the skill set we possess as architects, it's time to acquire your financial independence. We've enlisted the top freelancing websites with the hope of it helping you land some projects of your own. We can vouch for the systematic approach all these freelance sites for architects have to offer, with timely deliverables and payments.
The bidding war has begun and its time for you to get on board! Here are the Top Freelance Sites for Architects !
The following are the top sites for freelance architects. We assure this blog will help you out!
It's an Israeli online marketplace founded by Micha Kaufmann and Shai Wininger in the year 2010 hosting over 1.3 million gigs. The main idea behind it is to streamline the process of hiring or getting hired as a freelancer. All gigs were initially prices at $5 but now freelancer sellers can decide to charge more or offer packages of services. 
As a seller you create custom gigs to sell on the site and you can choose to offer add-ons to bump up the cost. 
Click the link and head over to www.fiverr.com.
It was founded in the year 2003 by Matt Barrie. It's one of the largest freelancing and crowdsourcing marketplace that connects employers and freelancers. They've posted over 13 million projects to date. This is a great place to start off as a freelancer. Jobs are done at a fixed price or hourly terms. Write your best bid for a project and get hired.
Click the link and head over to www.freelancer.com
Upwork, formerly Elance-oDesk, is an American freelancing platform where enterprises and individuals connect in order to conduct business. It was created by Beerud Sheth, Srini Anumolu, Sanjay Noronha in the year 1999. 
Three million jobs are posted annually, making Upwork one of the largest freelancing markets in the world. Upwork allows the client to interview, hire and work with freelancers through the company's platform either hourly based or a set-price contract.
Click the link and head to www.upwork.com
Truelancer is a Global Freelance Marketplace that was launched in 2014 by Dipesh Garg. It's an online platform for freelancers to work with clients all around the world. Creating an account, finding work or posting a project is free of cost thus being a great place to start as a freelancer if you've just graduated.
Click the link and head to www.truelancer.com
People Per Hour is a UK-based company whose function is as an online platform giving businesses access to freelance workers. It was founded in the year 2007 by Xenios Thrasyvoulou and Simos Kitiris. Build a great profile, find the best projects for you, sell your custom services with self-tailored offers and seal the deal.
Click the link and head to www.peopleperhour.com
Guru is a freelance marketplace. It allows companies to find freelance workers for commissioned work. It was founded in the year 1998 by Inder Guglani and James Slavet. Create a profile with your skill sets, view job listing, submit quotes and get hired. Payments are made following the SafePay system based on a fixed budget or hour based.
Click the link and head to www.guru.com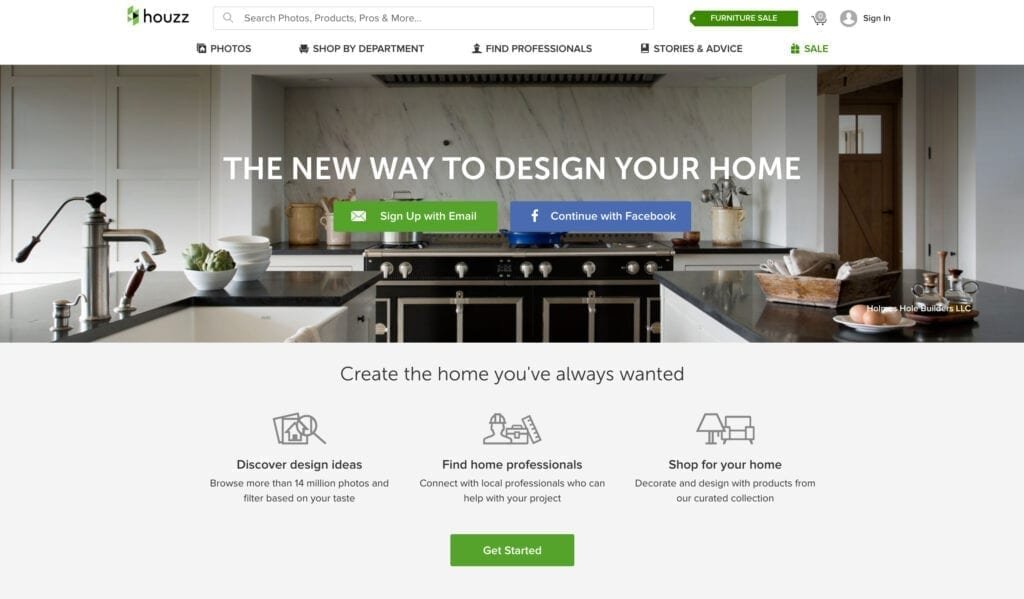 Houzz is an American website and online community about architecture, interior design and decorating, landscape design and home improvement. It was founded in the year 2009 by Adi Tatarko and Alon Cohen. Houzz introduced the Real Cost Finder, an interactive tool that helps users plan home renovations and total costs. 
The tool is based on data collected from the Houzz community. It is a community of more than 4 crore homeowners, home design enthusiasts and home improvement professionals around the world. Create a personal page of your business consisting your bio, portfolio and contacts, after which you will be indexed based on your location and customer reviews. 
Click the link and head to www.houzz.com
Freelancing can be a great option for architects looking for freedom in their work . But often it's looked as an inferior work model as compared to working in a mainstream company or firm. The truth of it is that freelancers have flexible work hours and off late have been upping their rates and earnings. So hop on while you can, work from anywhere around the world or from the comfort of your home, all you need is good connectivity! We hope the sites we've enlisted can be of use to you and motivate you to become a great freelance architect . Cheers !

Check out our other blogs at 
https://archgyan.com/category/blog/