The Power of BIMx for ArchiCAD
Building Information Modelling is a process for creating and managing information on a construction project across the project lifecycle. One of the key outputs of this process is the Building Information Model, the digital description of every aspect of the built asset.
What is BIMx?
BIMx is a set of desktop and mobile software tools to interactively present the 3D model and 2D documentation of Building Information Models created with ArchiCAD through a much simpler and intuitive interface than ArchiCAD's complex BIM authoring environment's UI. Let's learn more about the power of BIMx for ArchiCAD.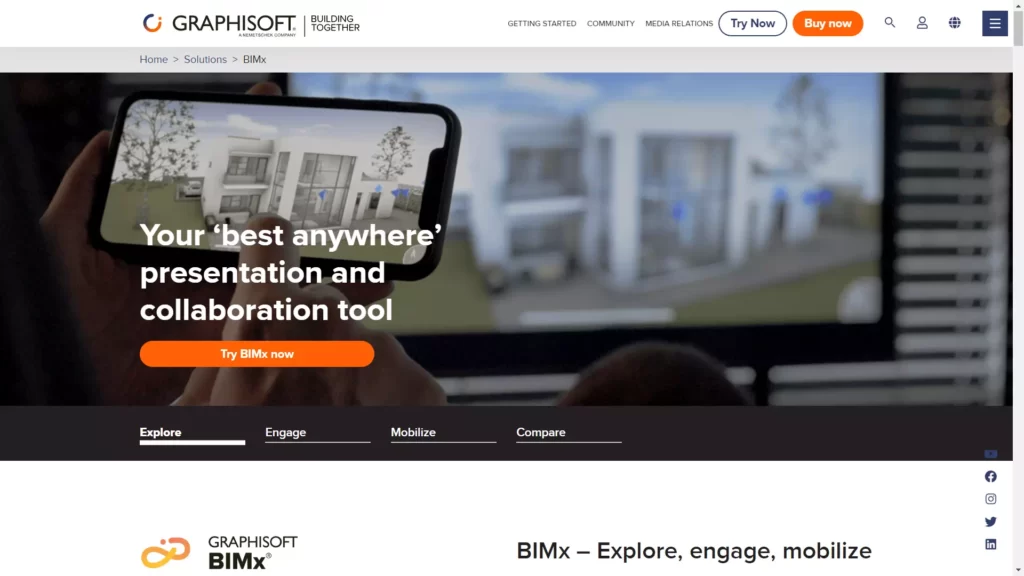 What is the Advantage of BIMx?
BIMx enables ArchiCAD models to be exported along with their details, such as building regulations drawings, in one complete package. Architectural practices are using the software not only for its advantages as a complete project package but also because of its use to the client.
BIMx – Explore, Engage & Mobilize
BIMx's features are best explained by segregating them into these 3 categories, covering all the bases of 3D & Information Modelling.
Explore
Simple, game-like navigation makes BIMx the 'best anywhere' presentation and collaboration tool on the market. Drive the design narrative on the building site for fast, specific client feedback.
Complete project documentation, BIMx Hyper-models contain hyperlinks to the complete 2D project documentation and more.
2D and 3D explained – Team members or clients not trained in reading 2D plans will instantly understand your design intent when they see the project in 3D.
Engage
A digital model means no more paper on the building site or at client meetings. All the relevant model data is at your fingertips for easy access and sharing.
Save paper using digital documentation that is always up to date and at your fingertips.
3D models with meta-data – Get instant access to all building-element information such as fire-ratings or manufacturer-specific properties.
Mega Projects – Engage clients on projects of any size thanks to model streaming technology that works just like a computer game.
Connect to BIM databases – Facility managers and owners can access and integrate Facilities Management databases for streamlined maintenance using the BIM model.
Share models via the BIMx Model Transfer Site – Upload BIMx Hyper-models to the BIMx Model Transfer site and engage your clients using a simple web link, there's no need to install or download an app. SSA and Graphisoft Forward subscribers can create private models, which can also be embedded on websites, to share with select customers.
Mobilize
Run BIMx on any mobile device without special hardware. Review designs and suggest changes on the go.
Teamwork messaging on the go – Use BIMx and BIMcloud to exchange instant messages and project images in real-time. Take notes on the construction site or during a client meeting and keep them attached to the BIM model.
Model update through the cloud – No need to plug in your device to a computer to update your model — all Teamwork messages are synced instantly and the latest design changes can be updated immediately.
Any device – any platform
Use the device and platform of your choice to explore BIMx Hyper-models:

The BIMx mobile app is available for both Apple iOS and Google Android platforms.
The BIMx Web Viewer is available in all common internet browsers.
The BIMx Desktop app is available on both macOS and Windows.

BIMx is also available on BIMcloud — view uploaded Hyper-models on BIMcloud Manager.
Hope this blog helped you.
To visit more blogs from Archgyan click
https://archgyan.com/category/blog/
To know about revit coordinate systems, types and how to locate them click,