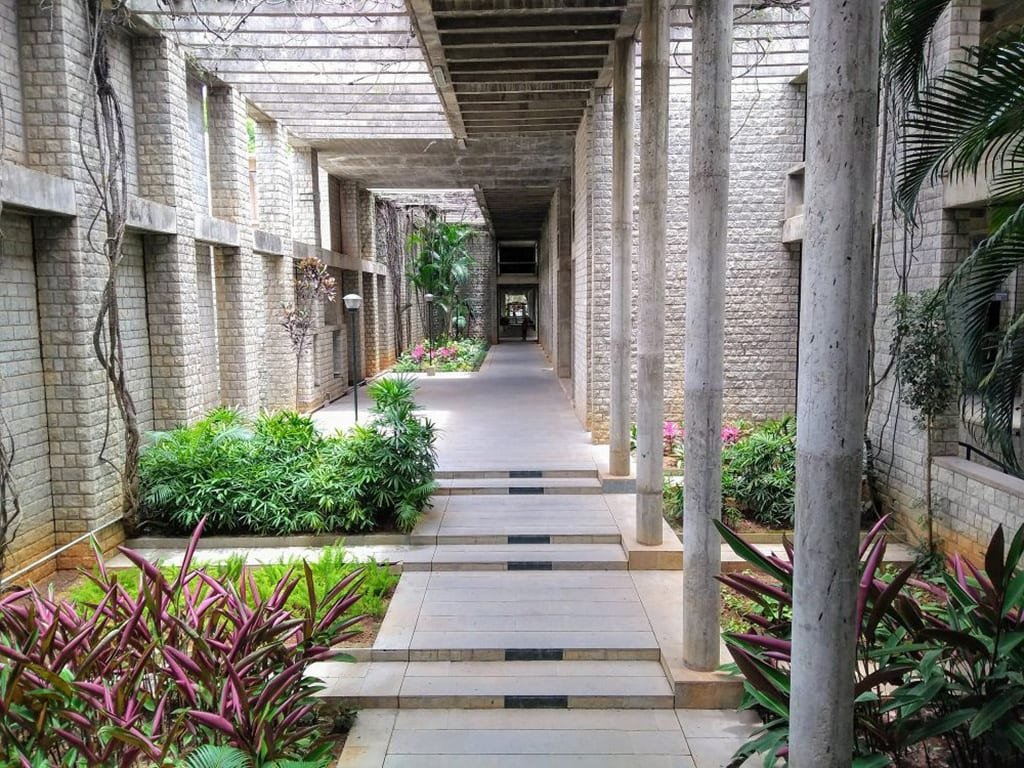 Oldest Architecture Firms in India
These are the firms started in the 20th century that have stood the test of time and flourished to large architectural firms today.
Named the 2018 laureate of the Pritzker Architecture Prize, Ar B V Doshi is one of the most celebrated modern architects of the century. Doshi was born in Pune, India in 1927 and started his architectural education in a mere age of 20 in the newly independent India. Afterwards, in 1950, Balkrishna Doshi flew to London for an advanced architectural education. There he met Le Corbusier and worked in his Paris studio from 1951 to 1955 as an architectural apprentice in his Paris atelier.
Doshi returned back to India in 1955 in order to oversee a number a projects that were being designed by Le Corbusier in Chandigarh, India. Settling in Ahmadabad, Doshi established his own office, Vastu Shilpa in Sangath. Although his early independent projects reflect a distinct influence of Corbusier, Doshi successfully crafted his own style by combining modern forms and materials with regional influences.
Doshi's office, Vastu Shilpa, created a list of "must-see" architecture sites in the city of Ahmedabad. The iconic roofscape of office of B V Doshi is easily recognisable featuring a series of sunken vaults sheathed in China mosaic, a small terraced amphitheatre with intricate water details. His relationship with Le Corbusier, his master is such close that till today, at the entrance of his cabin, Doshi keeps a portrait of the Swiss architect next to representations of Goddess Durga and Lord Ganesha.
Venkataraman Associates
Venkataramanan Associates (VA) is an architecture, interiors and urban design practice headquartered in Bangalore. Their design solutions are led by research, and informed by their geographical and functional context. They draw from varied cultures of design, from the global to the vernacular.
Established in 1969, VA's continuously evolving practice is informed by cumulative knowledge built over decades. With every landmark project, they have actively shaped the language of urban Indian architecture. The spaces are designed for relevance beyond today. It is this future-focused vision that the firm celebrates in the new VA identity on their 50th year.
With a multidisciplinary team of 180+ professionals, VA combines the proficiency of a corporate firm with the dynamism of an independent studio. Over the last 50 years, the firm has developed specialised environments for India's largest Fortune 500 companies, real estate developers, government institutions and public corporations. Over the years the firm has also received various awards and is one of the most prestigious architectural firms in the country.
Environ Planners, By Sanjay Patil Architects
Environ planners is an architectural firm established in 1981 and led by Ar. Sanjay Patil. The firm has always worked towards environment conscious architecture seeking inspiration from nature and tradition. Respecting nature has always been the firm's priority.
Over the years, the firm has designed for various institutional, industrial, residential, projects with each of those holding their own distinctive identity.The approach, to create an environment expresses the ability to integrate landscape with the building, which amalgamates interior and exterior to create a series of interactive spaces.
They specialize in residential, institutional, commercial buildings. Their motto is to respect nature, build sustainable buildings, and to make the building airy. The buildings they designed have a clear understanding of the client's requirements and the buildings have bold messages to convey. The understanding of materials, aesthetics, and functionality is what makes them stand out and won many prestigious awards at the National level.
Architect Hafeez Contractor
Architect Hafeez Contractor [AHC] is the leading architectural design consultancy firm, of India. The company has grown from a modest three-person firm in 1982 to having a team strength of over 550 plus people consisting of 24 Associates, 60+ Senior Architects, 90+ Architects, 5 Senior Project Managers / Coordinators, 20+ Interior Designers, 10+ Site Engineers.
AHC has successfully designed and executed works for clients ranging from large real estate developers, public sector undertakings, large corporations and institutions to health care entrepreneurs. In addition, large residential complexes, hospitals, educational institutions, hotels, resorts and large town and city planning schemes have all been undertaken and completed in record time. AHC's substantial experience and the large and well-resourced team puts the firm in the enviable position of being better equipped to successfully deliver designs for jobs of any size, nature or complexity.
Hope this blog helped you.
To visit more blogs from Archgyan click
https://archgyan.com/category/blog/
To know about revit coordinate systems, types and how to locate them click,